Supercook SC350
THE SC350 – THE BEST SUPERCOOK EVER
Fantastic 16 FUNCTIONS IN ONE DEVICE AND WIFI. The SC350 with a super strong 1000 Watt dual direction motor and a massive 4.5 liter jar. The detachable control unit, "Yumi" provided a maximum safety when you are away from your kitchen. Unplug it and store in a place not reachable for your kids.(Patent pending)
Artikel-Nr.:

07075

Verfügbarkeit:
---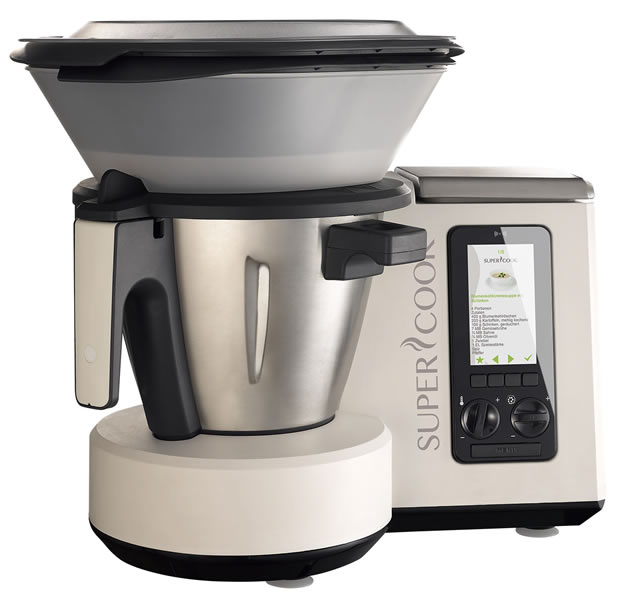 THE SC350, THE BEST SUPERCOOK EVER
Fantastic 16 Functions in one device and WiFi
The SUPERCOOK SC350, The Best Supercook Ever, now features: An incredible powerful motor with 1000 Watt (1.36HP, @ 20.000 rpm). 1.6 KG Pizza dough is done at easy in just 100 seconds. The torque increased by another 30% compared to the SC250. A motor reverse driver feature with a knife that is blunt on one side, will cook your sensitive ingredients to perfection. A dual motor cooler enhances the durability of the SC350 in long cooking processes even more. Slow cooking for up to 4 hours at 80 degrees or below. The family size jar with a volume of 4.5 liter finally feeds "all". The new stainless cooking basket can fit a medium size chicken, octopus or large size vegetables without the need of chopping it first. The newly designed transparent lid comes with SmoothLock(TM), close the lid with a tip of your finger. The SC350 can even "sous vide" cook as the motor will be set on hold ones the feature is selected. A keep warm feature is part of the new cook settings. The Libra scale is now an integrated module and reads out through the WiFi Yumi control module.
"Innovation is our duty, Supercook..."
Find inspiration in the Recipe Community: Select recipes or create your own with the Yumi App. Download it and sent it to the WiFi Yumi and follow the step-by-step instructions on the mobile Yumi colour display. The worldwide Recipe Community makes exchanging recipes with your friends simple and turns cooking into a real pleasure.

The WiFi Yumi control module for the SC350
Updatable. Mobile. 4.3" colour display
The WiFi Yumi control module is the brain of the SC350 and combines the Yumi recipe app and Supercook App for Apple und Android with the SC350 kitchen machine. The Yumi also allows you to control the SC350 in the conventional way using just the 6 buttons, i.e. to adjust the temperature, speed and time manually. The 4.3" full-colour display with its large high-contrast symbols makes handling the kitchen machine simple and intuitive.
The Yumi really comes into its own when you cook the saved recipes. The Yumi takes you through the preparation and cooking processes step by step while at the same time giving you enough flexibility to adjust the cooking settings, as all foods behave differently depending on the season and their regional origin. Interactive messages on the colour display combined with acoustic signals inform you about cooking progress and any preparation steps you need to take. Would you like to cook at the homes of friends who already have a SUPERCOOK SC350? Then all you need to do is take your Yumi with you as it fits any Supercook manufactured from 2013.

THE YUMI RECIPE APP AND MOBILE APPS
The gateway to a global recipe database
Just cooking is a thing of the past. You can now take inspiration from the global Recipe Community and share recipes with friends. Simply use the Yumi app or the Supercook Apps for Apple and Android to download your favourite recipes to your Yumi. Do you have your own ideas for great creations? Fab, then you can create your own recipes on our site. As you will see, cooking has never been so modern and so interactive.
And this is how it works: Log in, even if you are not yet the proud owner of a SUPERCOOK product, and try it for yourself. Load a recipe and use the Yumi app to create a shopping list for it. Create your own recipes using the interactive Yumi app interface. Select the ingredients and describe your recipe step by step, including the machine settings, preparation stages and valuable tips. Then save a picture of your recipe and sign it with your SUPERCOOK Community user name. Now select CREATE and we will provide you with a link or an e-mail containing the recipe file. Copy the recipe folder to the Yumi SD card and that's it, simply cook and enjoy. We will also save all your recipes in your personal recipe profile and in the APPS for Apple and Android to ensure that you can reload all your recipes even if you lose your SD card. The recipe database is constantly growing, giving you access to original recipes from all over the world. Whether it is genuine bolognaise from Italy, Pisco Sauer from Peru, corn flatbread from Mexico or wonderful sauces from France. Extend your tastes. If you wish, we can always notify you when a new recipe has been produced and released by SUPERCOOK chefs.

16 fantastic functions
Don't delay, try them all.
- Cook delicious pasta, rice, vegetable dishes or soups and & sauces
- Slow cook your favorite meals
- Sous vide function, build in
- Enjoy pre sets function
- Prepare herbs or vegetables for sauces and produce wonderful cooking aromas
- Steam vegetables and fish with the Vapore steam tray
- Emulsify mayonnaise and creams
- Puree baby food
- Chop fruits and vegetables
- Grind nuts
- Knead dough for delicious cakes
- Whip cream
- Grate vegetables
- Fancy mixing a drink? Prepare smoothies or cocktails .... You can even crush ice
- Powder sugar
- Grate hard cheese or chocolate

Steaming with the Vapore
Cook a complete meal with the SUPERCOOK steam cooking method
There is a long tradition of steaming in Far Eastern cuisine and it is also increasingly popular in Europe. This cooking method is among the healthiest ways of preparing food. We further perfected this method using a special approach allowing you now to cook a complete meal in one step.
For example: Fill the noiw stainless cooking basket of the l jar with potatoes or rice, attach the Vapore  and fill the deep steamer tray with fish or meat and the flat steamer tray with other vegetables. The clever condensation drip route prevents the condensation, protein or protein discharges being fed back into the stainless steel jar. Thus, the taste of the food you are preparing in the cooking basket of the stainless steel jar, remains unchanged. (patented)

Kitchen scale Libra
Now built in - an absolute match
The Kitchen scale Libra was specially developed for the SUPERCOOK SC350. It is a built in, easy accessible module to simplify any service of the appliances, if in an seldom event the sensor would be malfunction, no troubling mechatronics. The Libra measures in 1-gram steps up to 5000 gram and allows accurate measurements even for the strictest diets.
-
---
Technische Daten
| | |
| --- | --- |
| Funktionen | |
| Kochfunktionen | Yes |
| Temperatur | |
| Minimum Temperatur / Maximum Temperatur | 40-130 C |
| Geschwindigkeitsstufen | |
| Geschwindigkeitsstufen | 1-10, 1-4 in reverse |
| Stromversorgung | |
| Stromversorgung | 220- 240 Volt @ 50/60Hz |
| Automatisches Abschalten | Yes |
| Sonstiges | |
| Produkt-Abmessung | Max 28x40cmx29cm (44cm with Vapore steamer on top) |
| Gehäuse | Non slip PA with glas fiber enhancement / ABS |
| Gewicht | 10kg |
| Sprachen | |
| OSD | German, English, Italian, Spanish, Portuguese, French, Russian, Norwegian, Dutch, Chinese. Others on request |
| Benutzerhandbuch | Yes in PDF, online |
| Logistik | |
| Artikelnummer | 07075 |
| Gewicht | 12KG |
| Abmessungen | 60x40x40cm |
| Bearbeitungsstand | 18.11.2019 |
| Betriebsleistung | |
| Mixen | 1000W |
| Kochen | 1100W |
| Netzspannung / Frequenz | 220-240 Volt @ 50/60Hz |
| Verpackungseinheit | |
| Verpackungseinheit | 1 |
| Yumi Bedieneinheit | |
| LCD-Display | 4.3", color |
| Wifi Router Systemvoraussetzungen und Yumi unterstuetzung | |
| Repeater Modus | Yes |
| DHCP | Yes |
| Wi-Fi Band | 2.4 GHZ NON AC mode |
| Passwort Verschluesselung | WAP/WAP2 |
| Point to Point Modus | Yes, available |